Two weeks ago, Tesla changed its policy on allocating Model 3 sales to reservation holders. Instead of inviting reservation holders to configure their cars and place a firm order based on their position in the reservation queue, Tesla (TSLA) opened the "Model 3 design studio" to all reservation holders in the USA and Canada.
I interpreted this as a sensible move by Tesla. Opening the system to all reservation holders provides Tesla with firm data for orders and allows them to schedule production more easily. It is also a necessary move if they want to load the sales of the more expensive options into Q3 to help fulfill Elon Musk's prediction of a GAAP profit.
However, on July 9th, Tesla opened the Model 3 design studio to all prospective buyers, irrespective of whether they had a reservation. Orders can now be placed for a Tesla Model 3 by paying a $2,500 non-refundable "order processing fee." New buyers pay only $2,500 whereas reservation holders pay a total of $3,500 (including the initial $1,000 deposit) to order a Model 3. News of this move on SA has attracted several comments and much speculation about the depth of Tesla's order book.
I see this latest move as an indication of a poor response to the earlier move, and an indication that Tesla does not have enough firm orders for the long-range RWD Model 3 to sustain production through the rest of 2018. If Tesla has to start making the lower priced Model 3 variants to sustain production in Q4, this will have a negative impact on Q4 revenue and profits (or losses).
The graph below shows daily configurations reported to a survey on the Tesla Motors Club website: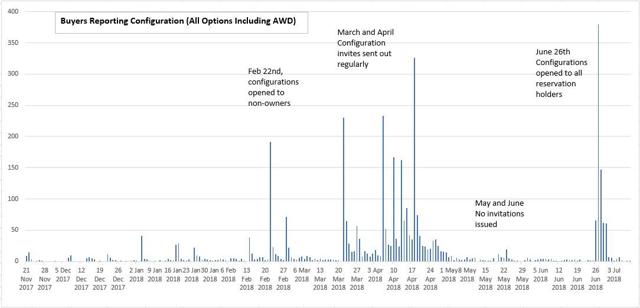 The graph shows a spike in configurations on June 26th and 27th when orders were opened up to all reservation holders, which quickly fell to only a dribble of configurations after the first four days. The total number of configurations is quite a bit lower than the totals for March and April.
However, this does not show the full picture because Tesla also opened up orders for the AWD and Performance options. The graph below is filtered to show only the configurations for the long-range RWD option, which Tesla is currently producing: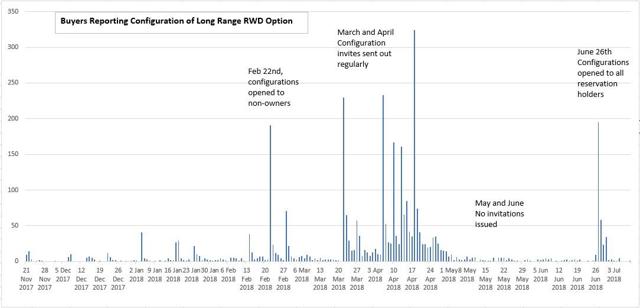 The number of reported configurations since June 26th is only about 15% of the number of configurations reported between the last week of April and the end of May (cars that would have been delivered in Q2).
Of course, there may be some bias in the results. People who enter data in the TMC website spreadsheet are more likely to be Tesla fans who lined up on the first day to make reservations. Now that configurations are open to everyone, the proportion of people filling in the spreadsheet may have dropped.
Let's take a look at what has happened to the most recent configurations.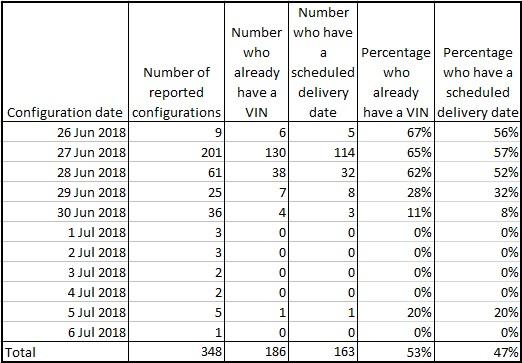 Over half of the reported orders have already been given a VIN and almost half have been given a scheduled delivery date. Almost all of those scheduled delivery dates are in July, and Tesla is still allocating dates with nearly three weeks left in the month. It appears, based on those buyers who have entered data into the TMC spreadsheet, that those who have ordered a long range rear-wheel drive Model 3 will have their car by the first week of August.
The TMC spreadsheet is a small sample (about 5% of all buyers) but there is no reason why it should not be a representative sample in this case. The only logical conclusion is that Tesla is running out of firm orders for the long-range RWD Model 3.
It is possible to argue that most reservation holders are waiting for options that are not yet available (standard trim, short range battery, white interior etc.). However, that would not account for anywhere close to the lack of orders that we see here.
It is also possible that reservation holders are delaying their purchase until Tesla resolves some of its quality and service problems. Some buyers may be holding off because they don't want to get one of the cars that were made during the big push for 5,000 in the last week of July.
In any case, the lack of response to the opening up of Tesla's order book should be a concern to investors.
What does this mean for Tesla financials?
The anticipated capital influx
Some analysts have speculated that Tesla will have a large influx of capital from the $2,500 non-refundable "processing fees." One analyst even went so far as to estimate a figure of $1 billion assuming that all 420,000 reservations have been converted to firm orders. I don't think that will happen. I believe, based on my conclusions above that Tesla will only take in enough "processing fees" to cover the Q3 production.
In fact, there may be a spate of cancellations, since buyers can now cancel, get their $1,000 back and order a car next day for a total down-payment of $2,500 instead of $3,500. We may see a capital outflow instead.
The effect on Q3
During Q3, Tesla will be building a mix of rear-wheel drive, all-wheel drive and performance variants, all with long range batteries. I expect production of AWD and Performance to start in August with first deliveries in mid-August. (I base that on the earliest reported delivery date for an AWD being August 18th)
Tesla has reduced the price of the AWD option from $54k to $53k, and the performance version is now available starting at $64k, versus a previously announced $78k. There are indications that sales of those options have increased since the price change, particularly the performance option. However, I will leave that analysis for another article.
Assuming 420,000 reservations, 30% choosing AWD or performance options, 60% in the USA or Canada and 50% converting to firm orders, Tesla would end up with 38,000 orders for the AWD and Performance options. If they make 5,000 per week for the last 8 weeks, along with the RWD cars they are making in July, there will be enough orders to fill the Q3 production plan.
Lack of firm orders for the long range RWD variant will therefore only have a minor impact, if any, on Q3.
The crunch will come in Q4
After completing all of the orders for the AWD and performance variants, Tesla will be facing a dilemma. Do they open orders up to overseas buyers and have some US customers lose out on the full $7,500 FIT credit, or do they start making the lower-priced variants, which Musk has told us he cannot afford to make right now?
In any case, expect a huge drop in average selling price and margins for the Model 3 in Q4, which means that any small profit they manage to eke out in Q3 will almost certainly be reversed in Q4.
Disclosure: I am/we are short TSLA.
I wrote this article myself, and it expresses my own opinions. I am not receiving compensation for it (other than from Seeking Alpha). I have no business relationship with any company whose stock is mentioned in this article.
Additional disclosure: Short via long dated puts
Related Posts: